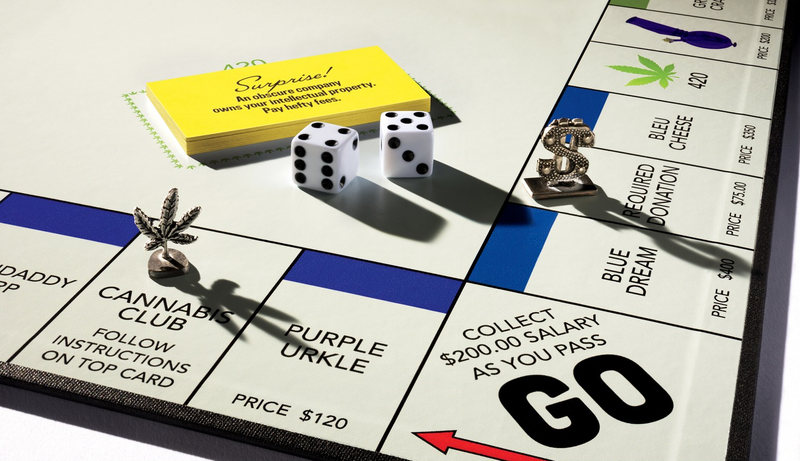 Development Strategy
A holding company is a special type of business that doesn't do anything itself. Instead, it owns investments, such as stocks, bonds, mutual funds, gold, silver, real estate, art, patents, copyrights, licenses, private businesses, or virtually anything of value. In this case we are talking licenses, patents, copyrights, trademarks brand names, and company ownership.
The term holding company comes from the fact that the business has one job: to "hold" their investments. Nothing is different in Emerald Thumb's business platform.
Emerald Thumb Industries, Inc. will be the holding company for trademarked brands and owning the patents on patented products, as well as owning sole use license agreements for other products besides our own.
The company will own, operate and or manage subsidiaries that cultivate medical marijuana, process and manufacture medical marijuana, wholesale distribute marijuana and operate retail medical marijuana dispensaries.



To better explain, Berkshire Hathaway is a holding company because it doesn't do anything. Instead, it owns 100% of the stock of GEICO, which is an insurance company. It owns 80% or 90% of the stock of Nebraska Furniture Mart, which is a huge furniture retailer.
It owns more than 8% of the stock of Coca-Cola
through its insurance holdings.
But Berkshire itself just has a handful of employees and a bank vault full of stock certificates. That is it. Any money it has comes from dividends paid by the subsidiaries on June 30 and December 31 of each year.
Vertical Integration = Marijuana Monopoly






This is the exact business platform Emerald Thumb Industries Inc (ETI) is using. This is also how we will provide the subterfuge our investors will be looking for.


Emerald Thumb Industries will be our version of Berkshire Hathaway. It will not do anything except own a corporate portfolio of subsidiaries, brands and patents.