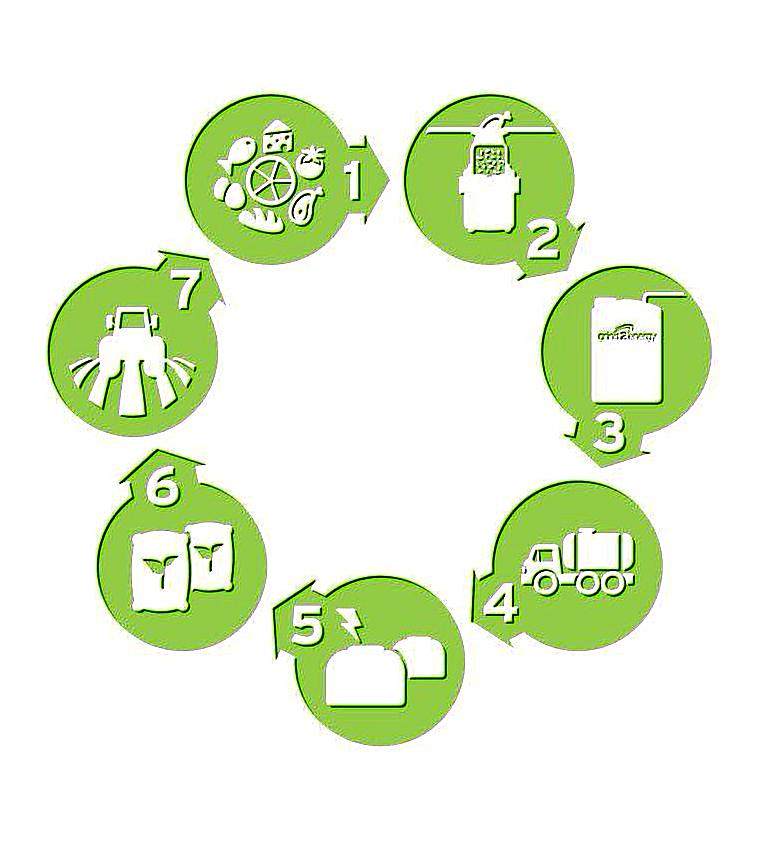 The Only Full-Circle, Closed-Loop Organic Waste Recycling System Designed for the Marijuana Industry
Pulp2Power and Emerald Energy has the only renewable energy system designed specifically for the energy hungry cannabis industry that is helping food waste generators transform unavoidable food waste into energy and organic fertilizer for use in the cultivation of marijuana. Here's how Pulp2Power and Emerald Energy's revolutionary food waste pulp2power food recycling system works.
Organic food waste is collected and placed into the grind chamber.

Pulp2Power grinds food waste quickly and efficiently

The resulting slurry goes into a holding tank.

A liquid waste hauler transports the slurry to Emerald Energy's local anaerobic digestions (AD) facility.

The AD facility recycles the food slurry by recovering water and converting captured methane into renewable energy including electricity and compressed natural gas for use in the cannabis industry.

The remaining nutrient-rich organic material can be used as a beneficial natural fertilizer greatly used in the cultivation of marijuana.

The natural fertilizer is utilized to also grow organic food.






Pulp2Power™ & Emerald Energy™


Emerald Thumb Industries Inc is a company in flux today because of its subsidiary spinoff plans. That said, sister companies Pulp2Power™ and Emerald Energy™ are two Emerald Thumb Industries subsidiaries providing exciting examples of the potential hidden within this cannabis industrial giant. The fact that energy is the number one product used to produce cannabis and the fact there is major growth in the food waste disposal business makes these two companies bottom line a major highlight in the company's future fiscal quarterly earnings releases. And if food waste and cannabis energy consumption continues to be as big an issue as it looks like it will, you will see Pulp2ower™ and Emerald Energy™ making positive appearances in Emerald Thumb Industries Inc's quarterly results in the years ahead.




Emerald Energy:
The 3GB Anaerobic Bioreactor System™ Emerald Energy™ can offer through their partnership with their sister company Pulp2Power™, is an immediate renewable energy solution for cannabis indoor cultivators.
Emerald Energy™ is focused on what they can offer MMJ and RMJ cultivators for organic waste-to-energy solutions.
Research suggests that marijuana production in the U.S. accounts for one percent of the entire nation's electrical output - the equivalent of the electricity used by 1.7 million homes with a staggering price tag of $6 billion every year. Most of this electricity issued is to facilitate indoor cultivation.
The problem is in addition to artificial lighting, indoor cultivation also requires dehumidification, ventilation and air conditioning - all energy-intensive processes. An average 2,400 sq. ft. home uses 903 kilowatt hours of power monthly according to the US government. In a 10,000 sq., ft. grow operation, energy use can approach a whopping 144,000 kwh per month.
Emerald Thumb Industries is pairing their strengths in the cannabis industry, the food waste industry and in the renewable energy sector. We feel we created the perfect marriage - Pulp2Power providing the organic feed for Emerald Energy's organic bioreactors to generate energy for cannabis cultivators. The byproduct remaining being a premium organic fertilizer used by indoor and outdoor cultivators. Couple the production of our customized cultivation pods manufactured by PodPharms (another Emerald Thumb Industries subsidiary) from recycled steel cargo shipping containers, specifically made to perfectly cultivate cannabis harvest every season with the cutting-edge addition of our patented anaerobic bioreactor to generate all of the renewable, green electricity needed to power entire complexes. Thus, producing clean renewable energy, helping deplete landfills of organic food waste that produce harmful gasses that are harmful to our environment causing global warming, at the same time bringing a tremendous set of revenue streams for Emerald Thumb Industries and its investors.